Bread is one of the most popular ingredients or food items that is used in breakfast meals worldwide. There are many ways to eat bread for breakfast: toast, sandwiches, egg nests, bread and butter, and there are so many interesting bread recipe that we can try. Here is an interesting way to prepare a quick and easy breakfast dish in the form of a tasty sausage bread recipe.
Ingredients:
– 500 grams Italian sausage
– 1 loaf Italian bread
– 1 beefsteak tomato
– 1 cup bell peppers, cut in strips
– 4 cups mozzarella cheese (sliced or grated)
– 1/4 cup sliced green olives
– 1/4 cup sliced black olives
– 1/2 cup olive oil
– 1/4 cup balsamic vinegar
– 1/4 tablespoon dried oregano
– 1/4 tablespoon dried basil
– 1 pinch salt
– 1 pinch ground black pepper
– 2 tablespoons diced onion
– 1 tablespoon fresh garlic (chopped)
Method:
 Preheat the oven to 200 degrees C.
 Lightly roast the bell pepper strips in a pan and set aside.
 Crumble the sausage and put it in a saucepan over low heat. Let it cook until completely browned. Remove from heat, drain and set aside.
 Cut the bread loaf length-wise and place the two halves on a baking sheet crust side down.
 Divide the cooked sausage in two parts and spread each part on one half of the bread evenly.
 Arrange mozzarella cheese on top of the spread sausage and top each half of the bread with sliced beefsteak tomato and roasted bell pepper strips.
 Arrange black and green olives on top.
 Bake in the preheated oven for about 10 minutes.
 In the meantime, take a bowl and mix the olive oil, balsamic vinegar, dried oregano, dried basil, diced onion, salt, pepper and chopped garlic.
 Drizzle over the baked bread halves and bake again for 2 minutes.
 Remove from the oven and cut in slices to serve.
Variation:
If you have some time then you can use Italian bread dough to prepare the bread.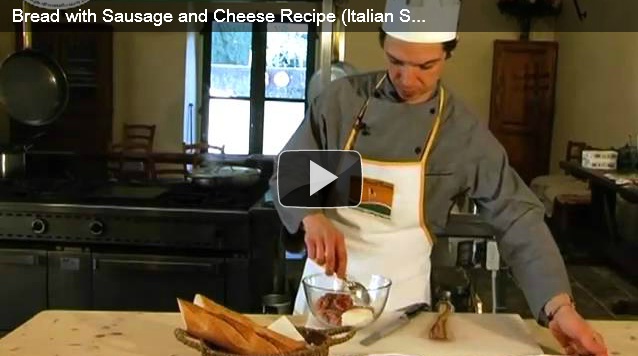 Method:
 Let the dough thaw out completely before using.
 Dust a little flour on a plain surface and roll out the dough lightly using your hands or a rolling pin to the desired size. The dough should be of 1/4-inch thickness.
 Prepare the filling by browning the sausages as mentioned earlier.
 Add the roasted bell peppers, onion, dried oregano, dried basil, sliced tomatoes, grated cheese, salt, pepper and garlic, and mix well.
 Add about 2 tablespoons of olive oil, just enough to bind the ingredients.
 Spread the ingredients on the rolled out dough in the center and cover from all sides in a long sausage shape.
 Bake in a preheated oven at 200 degrees C for 30-35 minutes.
 Remove from the oven and cut in slices to serve.
Pin It