Here is one of my favorite bread recipes. I remember the days when I was struggling and money was very tight (actually, nothing has changed!) but my insatiable taste for really good food simply overwhelmed all reason; hence this Garlic Cheese Bread Recipe. The following concoction is actually just one awesome way to transform a simple French hard roll or baguette from an ordinary fare to an extraordinary crafted treat. The ingredients are very versatile and flexible. This is a wondrous combination of tangy spices and creamy luxury to forget you're in your doldrums; the crunchy and soft combination really perks you up. But not only that… If you're not exactly in the gloom, this bread prescription also gives your day a perfect glow and just about the right amount of comfort to proceed in the right direction. Or if you're a normal person and you're simply having friends over, this will definitely prove one great hors d'oeuvre. Yet I digress. As I was saying, this Cheesy Garlic Bread Recipe is quite versatile. You can interchange the ingredients with other preferred items such as the type of bread or the type of cheese; you can also increase or reduce the amounts of each item in the recipe always depending on your preference. See for yourself!
Ingredients:
– 1 baguette or French bread loaf, cut horizontally to about half an inch thick
– 1 bar or stick of butter, softened or partially melted (but not in the pan or under heat)
– 4 to 6 cloves or pieces of garlic, minced as in almost pureed (or you may also use Pesto Mix, which is readily available in your local grocery store)
– 1 to 1.5 cups of shredded mozzarella cheese (or any cheese that melts quickly; you can also try thin cheese slices of the same variant)
– 2 tablespoons of fresh parsley, finely chopped (may already be optional if you choose the Pesto Mix above)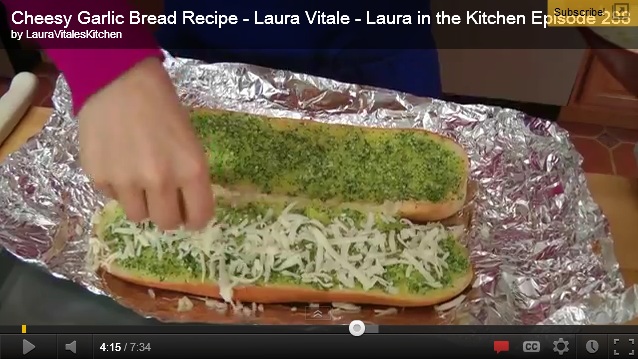 Method:
– Preheat your oven to about 400 degrees.
– Place slices of the baguette on an oven tray.
– In a small bowl, combine the butter and garlic (or Pesto Mix).
– Spread evenly on baguette slices. Be sure to lavish the spread for your utmost crunching pleasure.
– Then, evenly sprinkle the cheese over the slices of bread and place the tray back in the oven.
– Broil for about a minute or until the cheese has completed melted and shows a few golden bubble marks.
– Remove from the oven and serve hot.
I doubt if there'll be any leftovers; but store any remaining slices of bread in the freezer using a zip lock bag. Bon appetit, mon cher!
Pin It