Pumpkin is one of the few fruits, which people love to have in their meals because of their inherent advantages. You can make a plethora of dishes using pumpkin as the main ingredient e.g. pies, cakes, pumpkin bread recipe, gravy dishes etc. Pumpkin has lot of medicinal value as well. First and foremost is that it is rich in fiber, low on carbs, low in sugar and high in vitamin C and has a lot of water content which makes it a perfect choice in summers. Here is my favorite white ribbon pumpkin bread recipe with canned pumpkin:
What you will need for the filling
1 cup – Cream cheese
1/3 cups – sugar
1 tablespoon – Plain flour
1- Egg
2 teaspoon- Grated orange peel
For the bread
1 cup – canned pumpkin
½ cup – Vegetable oil
2- Eggs
1 ½ cup – Granulated sugar
½ teaspoon – Salt
½ teaspoon – Ground cloves
½ teaspoon – ground cinnamon
1 2/3 cup – All-purpose flour
1 teaspoon – Baking soda
1 cup – Chopped pecans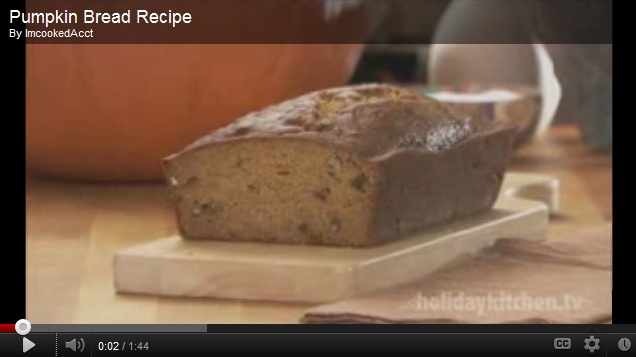 Method
Soften the cream cheese and add sugar to it. Mix well
Beat the egg and add flour and orange peel
Add the egg mix to the cream cheese mix and whip well to get an even filling mixture.
Set aside
Preheat the oven to 325F
Whisk egg and oil together to get an even consistency
Add sugar and canned pumpkin and use an electric blender at low speed to beat until the pumpkin is mixed well
Mix the dry ingredients (flour, cloves, cinnamon, baking soda and salt) in a bowl and mix well
Add the dry ingredients to the wet ingredients and blend them together to get a smooth batter
Stir in the chopped pecans
Grease two bread loaf pans
Pour ¼ of the batter in one pan and ¼ of the batter in other pan.
Spread the cream cheese filling mix on the top of batter
Pour the rest of the batter equally in two pans
Smooth the top
Put the pans in the oven and bake at 325F for about 1 ½ hours
Check by inserting a toothpick and if it comes out clean then the bread is done
Let it cool in the pan completely before removing
Wrap the bread tightly in cellophane wrapping if you are going to use it for gifting purposes
On slicing the bread you will see a ribbon of cream cheese in the middle
You can store the bread in refrigerator for future use
Tip
Add a few drops of pale yellow color or pink food color in the filling to give it a more attractive look.
Pin It