Waking up to the smell of warm healthy pumpkin bread on a Sunday morning is one of the best treats you can give your children. The best part of making pumpkin bread is that it does not require any special ingredients and you don't have to run to the market every time you get a craving for some delicious pumpkin bread recipe. Here is a simple and healthy pumpkin bread recipe for you.
Ingredients:
1 cup light brown sugar
 2 egg whites
 1 cup fresh mashed pumpkin (if you don't have fresh pumpkin you can used canned pumpkin too)
 1/4 cup canola oil
 1/3 cup yogurt
 1 teaspoon vanilla extract
1 cup all-purpose flour
 3/4 cup wheat flour
 1 1/2 teaspoons baking powder
 1 teaspoon ground cinnamon
 1/2 teaspoon ground nutmeg
 1/2 teaspoon baking soda
 1/2 teaspoon salt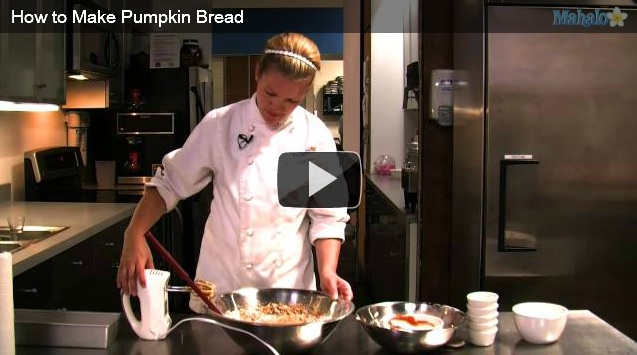 Method:
 Preheat the oven to 350F.
 Spray an 8-inch meat loaf pan with some cooking spray and dust with flour.
 In a mixing bowl, beat the egg whites and sugar together until fluffy.
 Add the oil and yogurt to the mix and blend well.
 Stir in the mashed pumpkin and vanilla extract.
 Combine the all-purpose flour, wheat flour, cinnamon, nutmeg, baking powder and baking soda in a bowl.
Add these dry ingredients to the wet ingredients, a little at a time, and blend well to mix properly.
 Stir in the salt.
 Note: Keep in mind to mix the ingredients until they are just well combined. Do not over-mix as it kills the puffiness of the bread.
 Pour the batter in the prepared pan and smooth the tops.
 Bake in the preheated oven for about 45-50 minutes or until a toothpick inserted in the center of the loaf comes out clean.
 Cool in the pan for 10 minutes and then invert the bread onto a wire rack and cool completely.
 Cut in slices to serve.
Serving suggestions:
 When serving at parties, serve the bread on a wooden board and decorate with some pitted cherries on the side.
 You can also cut in slices and serve with butter and cream cheese on the top.
 If using as a dessert, serve the bread with fruit custard or whipped cream.
 This bread also makes a great after school snack and you can serve it with milk or juice.
Healthy pumpkin bread freezes well: Wrap it in foil and freeze in good quality bags for later use.