After we finish carving our pumpkins, it's a tradition in my home to bake a delicious loaf of pumpkin bread, and I'm going to share our favourite pumpkin bread recipe with you. I like to use fresh pumpkin that's left over from the carving. It can get chilly in autumn and a warm loaf of bread from the oven makes a nice treat after a day of carving pumpkins. Now, if you aren't able to get fresh pumpkin, you can certainly make this pumpkin bread recipe with canned pumpkin as well, making it an excellent treat all year round.
I urge you to give this recipe a try none the less the next time you're in a pinch. Most people won't be able to tell the difference, so it will be our secret!
This recipe makes two normal sized loaves, or one giant loaf!
10 oz. pumpkin puree (Fresh or from a can)
2 eggs (Medium)
2/3 cup vegetable oil (Whichever you prefer to bake with)
1 cup water
2 cups sugar
2 1/2 cup flour
1 1/2 teaspoons baking soda
1 teaspoon salt
1/2 teaspoon ground cinnamon
1/2 teaspoon ground nutmeg
1/4 teaspoon ground cloves
1/4 teaspoon ground ginger
Click the video below to watch Chef John make an awesome Pumpkin Bread  Recipe;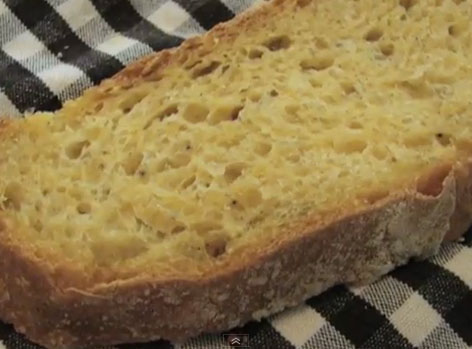 Preparation Instructions:
1) If you are using fresh pumpkin for this recipe, it's very simple to prepare the pumpkin puree yourself. Cut the pumpkin into pieces and boil or bake it until it is tender, then remove the skin and it will be soft and easy to puree. Skip this step if you are using canned pumpkin.
2) Preheat your oven to 350oF (That's 180oC). While you wait, grease your baking pan (or pans if you're making two smaller loaves) and coat it with flower.
3) Next, combine the pumpkin puree, eggs, vegetable oil and sugar into a medium sized bowl and mix until they're evenly blended.
4) In another bowl, combine the flour, baking soda, salt and the spices. If you prefer certain spices to others, you can adjust the amounts in accordance to your own tastes.
5) Combine both the dry and the wet mixture, whisk them together slowly into one bowl and then pour the mixture into your greased and floured baking pan.
6) Bake in oven for 45 minutes, or until you can poke it using a toothpick and have the toothpick come out without any batter sticking to it.
There you have it, a delightful alternative to banana bread that you can make year-round. It's fluffier and less dense than a lot of pumpkin bread recipes, and the spices bring out a seasonal warmth that's always welcome come the fall.
Pin It