The very popular bread does not have to just be simple white bread or whole wheat bread; you can add many delicious ingredients to the bread and turn it into a nutritious pumpkin bread recipe that will delight your whole family. Given below is a tasty cranberry and pumpkin bread recipe healthy and easy to prepare.
Ingredients:pumpk
– 1 cup all-purpose flour
– 1 cup whole wheat flour
– 1 cup ground cornmeal
– 1 cup brown sugar
– 1 tablespoon baking powder
– 2 teaspoons baking soda
– 2 teaspoons ground cinnamon
– 1 teaspoon ground ginger
– 1 teaspoon salt
– 1 1/2 cups pumpkin puree
– 1 cup plain yogurt (you can use the non-fat variety)
– 1/3 cup applesauce
– 2 large eggs
– 2 large egg whites
– 2 cups dried cranberries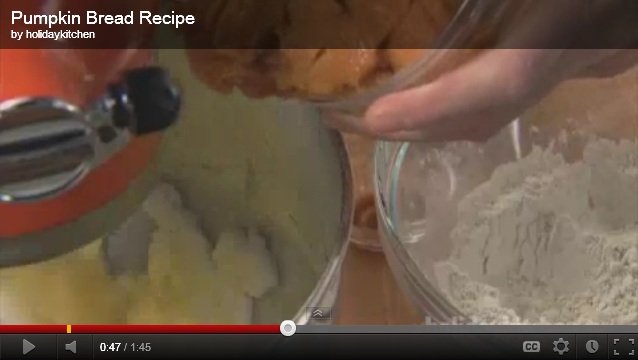 Instructions:
– The recipe makes 2 loaves of bread.
– Preheat the oven to 350F.
– Grease and flour two 9×5 inch bread loaf pans.
– In a mixing bowl, beat the eggs and egg whites together to make them fluffy.
– Add the yogurt and applesauce to the mix and whisk well.
– In a separate bowl, mix the all-purpose flour, whole wheat flour, sugar, baking soda, baking powder, cinnamon, ginger, brown sugar, salt and ground cornmeal. Break any lumps in the brown sugar with your fingers.
– Add this flour mixture to the egg mix, 1/2 cup at a time.
– Blend well to avoid any lumps of flour in the mix.
– Pour in the pumpkin puree and mix some more.
– Add the dried cranberries in last and give the batter one last stir.
– Pour the batter in the two greased pans.
– Bake in the oven at 350F for 55-60 minutes until a skewer inserted in the middle comes out clean.
– Remove from the oven and cool for five minutes.
– Turn the bread out from the pan and cool completely before cutting in slices to serve.
Serving suggestions:
While the pumpkin bread is good to be eaten as it is, it makes a perfect lunchroom snack.
Butterscotch Frosting
Ingredients:
– 1/2 cup butterscotch sauce
– 1 cup powdered sugar
Instructions:
– Beat the butterscotch sauce with the sugar until it reaches a smooth and spreading consistency.
– Spread some frosting on the bread and enjoy!
You can double wrap this bread and store in the freezer for later use.
Brown Sugar Topping
Ingredients:
– 1/2 cup brown sugar
– 1/2 cup chopped walnuts
– 1 teaspoon cinnamon
– 2 tablespoons flour
– 2 tablespoons butter
Instructions:
– This topping has to be baked on top of the bread.
– In a bowl, mix all the ingredients together to get a crumbly mixture.
– Sprinkle this mixture on the bread batter in the pan and bake the bread as instructed above.
Pin It