Gluten, according to the Merriam Webster online dictionary, is "a tenacious (not easily pulled apart) elastic protein substance especially of wheat flour that gives cohesiveness to dough". Gluten is the sticky element of grains such as wheat barley, rye and even grass. Gluten, once separated from wheat, contains small amounts of fat, moisture and ash. This food is very low in saturated fat, cholesterol and sodium. It is also a good source of selenium, and a very good source of protein. However, gluten does not go very well for people with Coeliac Disease, or an auto-immune disease that may be genetic and causes chronic diarrhea and other bowel problems. A lot of people actually suffer from this ailment and, therefore, a lot of banana bread recipe have been concocted in their favor; most notable are gluten free banana bread recipe that consider the celiac diet but retain the value of high fiber.
Basically, recipes of this kind contain gluten-free flour, such as rice flour. These also contain high fiber and the sticky, cohesive substance found in wheat and other glutinous grains, yet do not contain the proteins that trigger the symptoms of Coeliac Disease that hinder the absorption of nutrients by the body. This recipe is a must-try and later on must-have staple in the pantry for people diagnosed with the auto-immune disease. Kindly remember, this is still a tasty treat and all other accoutrements can still apply when serving this deliciously healthy diet food. Slathered with your choice of spread or taken alone with your favorite drink, you can continue to enjoy good health with good food.
Ingredients:
– 2 cups gluten-free all-purpose flour
– 1 teaspoon baking powder
– 1/4 teaspoon salt
– 4 fresh eggs
– 2 cups mashed ripe saba bananas (4-5 medium pcs.)
– 1 cup sugar
– 1/2 cup unsweetened applesauce
– 1/3 cup canola oil
– 1 teaspoon vanilla extract
– 1/2 cup chopped cashew nuts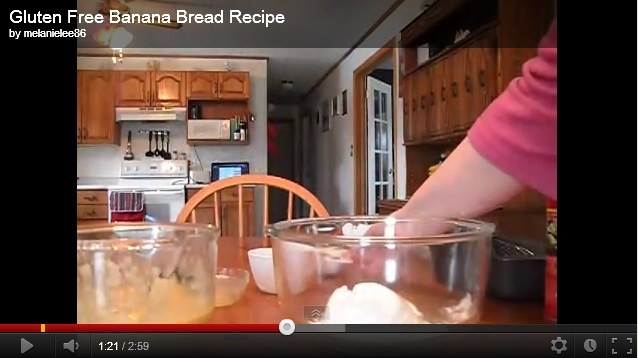 Directions:
– In a large ceramic bowl, combine the flour, baking soda and salt.
– In a smaller ceramic bowl, beat the eggs and then add the bananas, sugar, applesauce, oil and vanilla.
– Beat with a hand mixer on medium speed.
– Gradually add the dry ingredients until thoroughly mixed.
– Transfer into two 8-inch loaf pans lightly coated with cooking spray.
– Bake at 350°F for 30 minutes or until a toothpick inserted near the center comes out clean.
– Cool for 10 minutes before removing from the pans to wire racks. This recipe yields 2 delicious loaves.
Pin It