A side dish of fresh and warm garlic cheese bread recipe makes a meal complete. From appetizers to the main meal, garlic cheese bread can be eaten with everything. It is a non-messy dish that can even be served at a children's party as a finger food, which everybody will enjoy. Here is a tasty garlic cheese bread recipe with spring onions for you to try out at the next party.
Ingredients:
– 3 1/2 cups grated cheddar cheese
– 3/4 cup grated Monterey Jack Cheese
– 1/2 cup grated parmesan cheese
– 1/2 cup mayonnaise
– 4 green onions or spring onions
– 1 pinch salt (you can skip the salt if you want because cheeses usually contain salt)
– 1 loaf crusty French bread
– 1 stick butter
– 4 fresh garlic cloves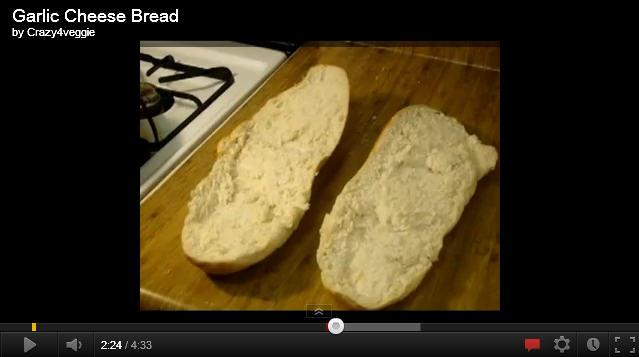 Instructions:
– Peel the garlic and remove the outer skin.
– Finely mince the garlic using a sharp knife. If you don't like the taste of pieces then you can grind the garlic cloves to make a paste.
– Slice the green onions starting from the white part and go up to the dark green part. Slice finely.
– Take 1/2 cup of mayonnaise in a bowl and add the sliced green onions to it.
– Add 1 cup of grated cheddar cheese, 3/4 cup of Monterey Jack Cheese and 1/2 cup of grated parmesan cheese.
– You can add the salt at this stage.
– Mix all the ingredients well.
– Store this mix in the refrigerator for at least 2 hours before using. This means that you can prepare the mix in advance and then use it later to prepare the bread.
– Take the French bread loaf and slice it in half lengthwise, then cut each half in half vertically.
– Preheat the oven to 425F.
– In the meantime, divide the minced garlic in four equal parts.
– Divide the stick of butter in four equal parts.
– Place a heavy bottomed skillet on low heat and heat one portion of butter and garlic in it.
– Once the garlic is lightly sautéed place one piece of bread white-face down and lightly roast it so that the bread soaks up the butter and the garlic pieces are stuck to it.
– Repeat the process for the other three slices of bread.
– Make sure that you remove all the garlic pieces form the skillet otherwise the garlic will burn.
– Place the roasted bread on a baking tray and spread the cheese mixture on the bread pieces.
– Bake in the preheated oven for 10 minutes or until the cheese is bubbly.
– Cut the slices in thin fingers.
– Serve hot.
Pin It