Gluten free food and bakery items are the call of the day and more and more people are turning towards them as a healthy alternative. Banana bread recipe is on delicious and nutritious alternative. If you have been wondering where to get the best gluten free banana bread recipe then your search stops here.
Ingredients:
– 1 cup rice flour
– 1 cup buckwheat flour
– 3 teaspoons gluten free baking powder
– 1/2 teaspoon salt
– 1 cup plus 2 tablespoons butter or margarine
– 1 1/4 cups sugar
– 3 bananas
– 4 large eggs
– 4 tablespoons icing sugar
– 1 tablespoon lemon juice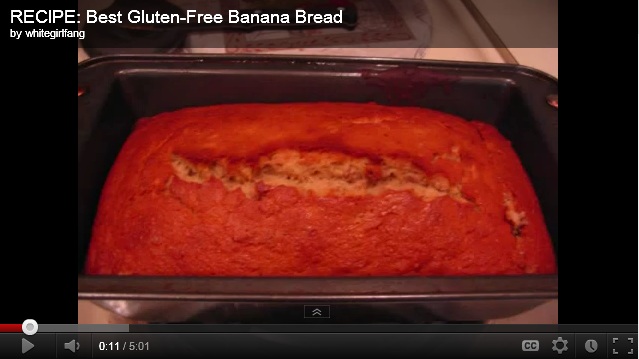 Instructions:
– Preheat the oven to 350F.
– Mash the bananas using a fork.
– Add the butter and sugar to the bananas and use an electric blender to blend them together.
– Add the eggs and mix well.
– Sift the rice flour, buckwheat flour, baking powder and salt in a bowl.
– Add the flour mix to the banana mix and mix well to avoid any lumps.
– Pour the batter in a greased large loaf pan and bake at 350F for about 1 hour 15 minutes until the cake is firm.
– Let the cake cool for about 10 minutes.
– Mix the icing sugar with the lemon juice and drizzle it over the warm banana bread.
– Cool the bread and cut in slices to serve.
– You can store the bread for several days.
Substitutions:
– In place of wheat flour and buckwheat flour you can use 2 cups of rice flour.
– If you don't have gluten free icing sugar then you can use regular sugar in place of it.
– Replace sugar with honey or maple syrup.
– You can also use lemon syrup in place of the lemon juice and sugar mix.
Ingredients for lemon syrup:
– 1/3 cup freshly squeezed lemon juice
– 1/2 cup sugar
– 1 lemon zest
Instructions:
– Boil the lemon juice, sugar and lemon zest on medium flame.
– Let the mix simmer for 5 minutes.
– Remove and set aside.
– When the bread is done poke some small holes on the top of the bread. You can use a skewer or a toothpick for this.
– Remove the lemon zest from the syrup.
– Pour the syrup on top of the bread loaf.
– Poking holes in the bread allows the syrup to penetrate deep in the bread.
– Let the bread sit in the fridge overnight before serving. This will give it a more powerful flavor.
– You can increase or decrease the amount of lemon juice depending on your taste.
You can make this recipe completely vegan by replacing the eggs with bananas and using vegan margarine in place of butter.
Pin It