Waking up to the warm smell of freshly baked muffins in the air is every child's dream. As adults also we love the smell of yummy muffins in the air and it tantalizes our taste buds like nothing else does. You can also try some banana bread recipe like this delicious muffins at home in no time at all by following this coffee-banana bread muffin recipe.
Ingredients: (This recipe will make 12 muffins.)
– 3 to 4 ripe and mashed bananas (more bananas make the muffins more moist)
– 1/3 cup melted butter
– 3/4 cup sugar
– 1 egg
– 1 teaspoon vanilla essence
– 1 tablespoon espresso
– 1 1/2 cups flour
– 1 cup chopped walnuts
– 1 teaspoon baking powder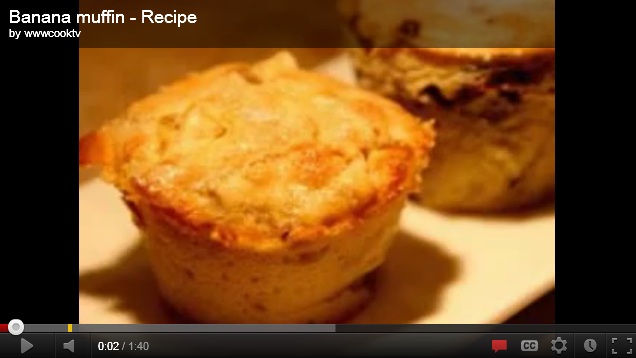 Method:
– Grease and flour 12 muffin molds.
– Preheat the oven to 350F.
– In a large mixing bowl, take the butter and mashed bananas and mix them using a wooden spoon.
– In a small bowl, beat the egg till fluffy.
– Pour the egg in the butter-banana mix and mix well.
– Add the sugar, espresso and vanilla and mix all the ingredients together.
– In a separate bowl, add the flour, baking powder and walnuts and mix together well.
– Add the dry ingredients to the wet ingredients and mix until well incorporated.
– Pour in the muffin molds (fill only 3/4 cup) and bake in the preheated oven for 25-30 minutes.
– Cool for about 20 minutes before taking out of the mold and storing.
You can also try out various icings on the muffins to add more to the taste. Here are some icing options that you can use.
Passion fruit glace icing
Ingredients:
– 1 cup icing sugar
– 1 1/2 tablespoons passion fruit pulp
Method:
– Add the pulp to the icing sugar and whisk together well.
– Drizzle over the baked muffins and set them aside to cool before serving.
Browned butter frosting
Ingredients:
– 1/3 cup butter
– 3 cups powdered sugar
– 1 teaspoon vanilla
– 4 tablespoons milk
Method:
– In a saucepan, heat the butter and keep stirring until light brown in color.
– Remove from heat and cool.
– Mix the butter, powdered sugar and vanilla.
– Add 3 tablespoons of milk and combine well. If you find that the frosting is not very easy to spread then add the rest of the milk and mix.
– Spread the frosting over the muffins and set aside to cool.
– Decorate each muffin with sliced banana before serving.
Honey icing:
– 1 cup icing sugar
– 3 1/2 tablespoons butter
– 2 tablespoons honey
– 1 tablespoon milk
Method:
– Use an electric blender to blend together the icing sugar, butter, honey and milk to a spreading consistency.
– Spread over the baked muffins to serve.
– You can also crumble some cookies over it for more appeal.
Pin It