I love the sweet and slightly tangy taste of pumpkin in my mouth. Out of all the sweet pumpkin recipes, I like the pumpkin bread pudding recipe it's the best. Here is my favorite pumpkin bread pudding recipe with smooth caramel and pecan sauce.
Ingredients:
– Large eggs – 4
– Pumpkin – 2 cans
– Half and half – 1 cup
– White sugar – 1 cup
– Ground cinnamon – 1 teaspoon
– Salt – 1/2 teaspoon
– Ground nutmeg – 1/2 teaspoon
– Vanilla extract – 1/2 teaspoon
– One day old French bread loaf – 1
Caramel Pecan sauce ingredients:
– Chopped pecans – 1 cup
– Light brown sugar – 1 cup
– Butter – 1/2 cup
– Light corn syrup – 1 tablespoon
– Vanilla extract – 1 teaspoon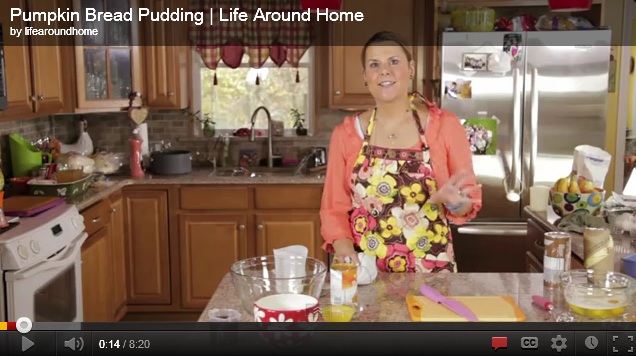 Instructions:
– Slice the bread loaf in the middle and cut the bread into 1-inch pieces.
– Take the eggs and sugar in a large bowl and whisk well to mix.
– Take the pumpkin from the can and make a puree out of it by blending in a mixer.
– Add the pumpkin puree to the egg–sugar mix.
– Mix well. You can use very small pumpkin pieces also, but I find that they don't blend that well.
– Add the half and half, ground cinnamon, ground nutmeg, salt and vanilla and mix all the ingredients well.
– Add the bread pieces to this mix and gently stir in to coat evenly.
– Cover the bowl with plastic wrap and chill in the fridge for 8 to 24 hours. This will ensure that all the ingredients are soaked up by the bread completely and the spices are well blended.
– When you want to bake the pudding, preheat the oven to 350F.
– Grease 11 ramekins (of 200 ml capacity each).
– Spoon the soaked bread mixture in the greased ramekins.
– Bake at 350F for about 35 minutes.
– After 35 minutes, cover with aluminium foil and bake for another 15 minutes.
– You can prepare the sauce in the meantime.
– Toast the pecans over low heat. Make sure that you stir the pecans often to avoid burning.
– In a saucepan, take the brown sugar, butter and corn syrup and heat them over low heat. Once the sugar dissolves, stir all the ingredients well. This should take about 5-7 minutes.
– Remove from the heat and add the vanilla and pecans.
– Remove the pumpkin bread pudding from the oven and drizzle the prepared sauce over the pudding.
– Bake in the oven for another 5 minutes or until the sauce is bubbly.
– Remove and serve in the ramekins with whipped cream on the side.
Pin It