Pumpkin is one fruit that has so many uses that you cannot list them all on one page. It is used as a fruit to prepare breads, cakes, cheesecakes, puddings etc. and it is used as a vegetable to prepare exciting gravy dishes. I like pumpkin bread recipe  the best, so here is my favorite pumpkin bread recipe healthy and easy to make.
Ingredients:
– 1 1/2 cups shredded zucchini
– 1 cup canned pumpkin
– 3 cups wheat flour
– 3 eggs
– 2 cups sugar
– 1/2 cup brown sugar
– 1 tablespoon vanilla
– 1 tablespoon ground cinnamon
– 1/2 teaspoon nutmeg
– 1/2 teaspoon freshly crushed cloves
– 1 teaspoon baking powder
– 1 teaspoon baking soda
– 1 cup raisins
– 1/4 cup almonds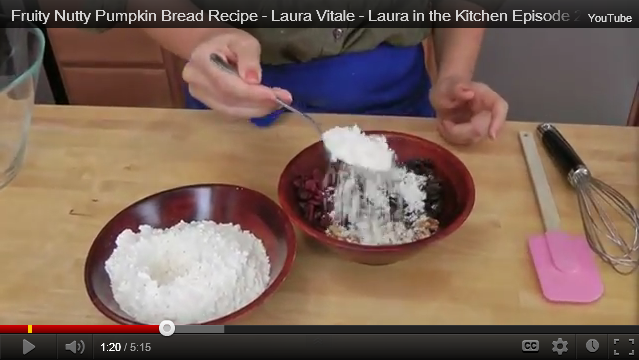 Instructions:
– Soak the almonds in water overnight.
– Peel in the morning and thinly slice the almonds.
– Preheat the oven to 350F.
– In a bowl, take the eggs and sugar and whisk them until fluffy.
– Add the brown sugar.
– Add the zucchini, pumpkin and vanilla.
– Blend well to get a smooth mix.
– In a dry bowl, mix the flour, cinnamon, nutmeg, cloves, baking powder and baking soda.
– Add the dry ingredients to the egg-zucchini mix using one tablespoon at a time.
– Blend well to get an even mix.
– Stir in the raisins and sliced almonds.
– Grease two bread loaf pans.
– Pour the batter in the loaf pans equally.
– Bake in the preheated oven for about 45 to 50 minutes or until a toothpick inserted in the middle of the bread comes out clean.
– Remove from the oven and cool in the pan for 10 minutes before inverting on a wire rack to cool completely.
– Cut in slices to serve.
Vegan Version
Ingredient substitutions:
Substitute
– Eggs for 3/4 cup egg replacer
– Sugar for 1 cup sugar free substitute
– Brown sugar for 1/4 cup brown sugar free substitute
Add
– 1/2 cup applesauce (unsweetened) for moisture
Instructions:
– Use the above instructions to bake the bread.
Pumpkin bread freezes well so you can easily make batches and store in your freezer to defrost when needed.
Pumpkin Bread French Vanilla Toast
Ingredients:
– 8 pumpkin bread slices
– 2 eggs
– 1/2 cup milk
– 1 teaspoon vanilla
– 1/2 teaspoon cinnamon
– 1/4 teaspoon all spice
– Pinch of salt
– 2 tablespoons butter
Instructions:
– Beat the egg to fluffy.
– Add the milk and beat some more.
– Add the vanilla, cinnamon and all spice.
– Melt a little butter on a skillet.
– Dip the bread in the egg batter.
– Place on the skillet and cook on both sides until nicely browned.
– Serve with maple syrup and cream.
Pin It