Not every type of bread has to be fattening and heavy. And you don't have to spend extra money to buy 'low fat' products in the bakery. You can easily make tasty, healthy and simple pumpkin bread recipe at home. In my quest to work out healthy recipes using fresh ingredients, here is a simple healthy pumpkin bread recipe that you must try at home.
Ingredients:
– 3 1/2 cups all-purpose flour
– 1 tablespoon baking powder
– 2 teaspoons baking soda
– 1 teaspoon ground cinnamon
– 1 teaspoon ground nutmeg
– 1/2 teaspoon all spice powder
– 1 cup granulated sugar
– 1/2 cup egg replacer (you can use flaxseed powder too)
– 1/2 cup canola oil
– 1/2 cup low fat buttermilk (homemade recipe given below)
– 2 large eggs
– 2/3 cup water
– 1 can pumpkin
– 1/3 cup chopped pecans or walnuts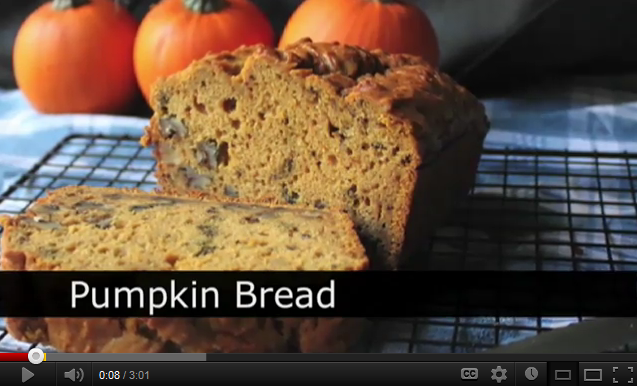 Instructions:
– Preheat the oven to 350F.
– Grease and flour two 9×5 inch baking pans.
– In a dry bowl, measure the flour, baking soda, ground cinnamon, ground nutmeg, all spice powder and baking powder. Mix all the dry ingredients thoroughly.
– In a separate bowl, take the pumpkin and water and blend them on a low speed to get a smooth puree kind of consistency.
– In a third bowl, take the eggs and egg replacer and blend them at medium speed to get a fluffy mix.
– Add the oil and buttermilk to the eggs and blend at medium speed to mix well.
– Pour the pumpkin puree in the egg-buttermilk mix and blend at high speed for 1 1/2 minutes. If you blend too much then the pumpkin can turn sticky and spoil the texture of the bread.
– Now add the dry ingredients to the pumpkin–egg–buttermilk mixture and blend at low speed until just combined.
– Pour the prepared bread batter in the greased bread loaf pans.
– Sprinkle the chopped walnuts or pecans on the top.
– Bake the bread in the preheated oven at 350F for 50 minutes.
– Cover the bread with silver foil and bake for another 10 minutes.
– Remove the bread from the oven and cool in the pan for 10 minutes.
– Remove from the pan and cool on a wire rack.
This bread can be wrapped in plastic wrap and stored in the freezer for one month.
Low Fat Buttermilk
Buttermilk can be easily made at home.
Ingredients:
– 1 cup non-fat milk
– 1 tablespoon lemon juice or vinegar
Instructions:
– Stir the lemon juice in the milk.
– Let it sit for 10 minutes.
– Stir again and your buttermilk is ready to use.
Pin It