Colours are the life of India and it reflects in Indian food. Colorful spicy food is the mark of Indian food. Gravy dishes, fry bread recipe  and sweets all form part of the Indian cuisine. To tempt your taste buds, here is a spicy and green Indian fry bread recipe that can be served as a snack or with gravies as a meal.
Ingredients:
– White plain flour – 450 grams
– Yogurt – 2 tablespoons
– Ghee (refined butter) – 1 tablespoon
– Carom seeds – 1 tablespoon
– Green peas – 200 grams
– Green chilies – 4
– Cumin seeds – 1 teaspoon
– Garam masala – 1/4 teaspoon
– Dried mango powder – 1 teaspoon
– Salt – 2 tablespoons
– Water to knead the dough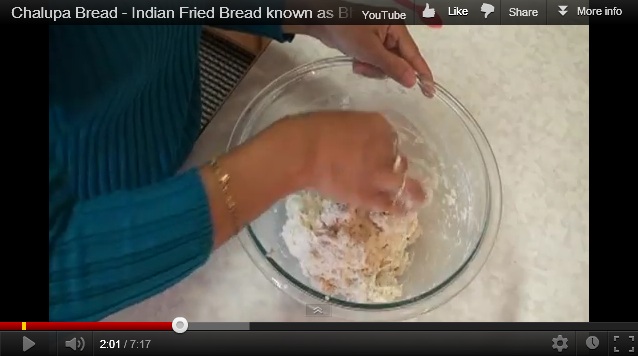 Instructions:
For the dough:
– Take 400 grams of flour in a bowl.
– Heat the ghee over a medium flame and pour it over the flour.
– Gently rub the flour between your fingers so that you get a crumbly sort of mix.
– Add one tablespoon of salt to the dough and mix some more.
– Add the carom seeds and yogurt to the mix and gently knead the dough to a stiff mix.
– Sprinkle a little water on the dough and keep on kneading to get a smooth, soft dough.
– Cover the dough and set aside.
– Boil the peas until soft.
– Remove from the heat and drain. Let them cool a little.
– Give the peas a whirl in a mixer to lightly crush them.
– In a frying pan, take a little oil and add the green chilies and cumin seeds to the oil.
– Fry for a minute and add the garam masala.
– Add the crushed peas, dried mango powder and 1 tablespoon of salt to the oil.
– Mix well and sauté for a few minutes until the mixture is dry enough to make soft balls.
– Remove from the heat and cool the mix.
– Divide the dough into small balls.
– Roll the dough out to small 3-inch rounds.
– Place 1 1/2 teaspoons of the pea mixture in the center of the rolled out dough.
– Gently lift the edges of the dough and close it over the filling.
– Sprinkle with some dry flour.
– Lightly roll out the dough again into thin rounds.
– Take care that the filling does not spill out.
– Heat the oil for frying on medium heat and deep fry the bread in the oil.
– Serve hot with tamarind and sweet and sour sauce.
You can vary the amount of chili according to your taste.
The bread also tastes good with a tomato sabzi (cooked tomatoes in gravy).
Pin It