When I was visiting some friends in the Philippine Islands, several years ago, I was amazed at the amount of rice being consumed by the people. Of course, far be it for me to impose on my most gracious hosts to be served outlandish Bread Recipe when they are known for being rice producers; and rice is such a staple food.
Moreover, I was pleasantly surprised that
Rice Flour Bread Recipe
were not as popular there as one would expect. Albeit, they do have this tasty rice batter that turns into small rice cupcakes, but not bread. So I went ahead and shared this light, high-fiber snack but which is quite heavy on the stomach.
You must read the recipe thoroughly first so you will know what to expect. This is bread, yet it doesn't use yeast. There's also no kneading involved. The batter or dough will and should be very thick and sticky. Thus, you will need to scrape the mixing bowl meticulously. Once poured into the pan, tap the pan heavily to evenly distribute the batter. And, lastly, for your own personal touch, you may augment the batter with a sprinkling of raisins, chopped prunes or chopped dried figs.
Ingredients:
– 1 cup of finely milled rice flour
– 3 teaspoons of baking powder
– 1/2 teaspoon of table salt
– 4 tablespoons of butter or margarine
– 4 tablespoons of white sugar
– 2 egg whites beaten to a mild froth
– 2 egg yolks also beaten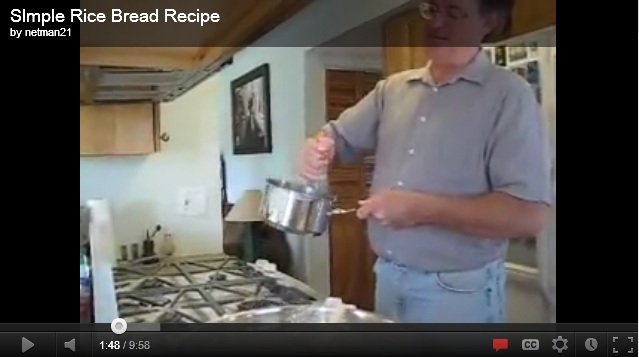 Method:
 First, preheat the oven to 325°F, and line a loaf pan with wax paper and brush thinly with palm oil.
 Then, sieve the flour, baking powder and salt thoroughly in a large mixing bowl.
 Next, add the butter and beat the mixture with a hand mixer at medium speed.
 Add the sugar, 1 tablespoon at a time until well blended.
 Add the egg yolks and beat until the batter has a smooth consistency.
 Fold in the egg whites and pour the mixture into the waxed loaf pan.
 Bake for roughly 45 minutes, or until a toothpick inserted in the center comes out clean. You may want to reduce the heat after 30 minutes if you want a lighter crust.
 Turn off the oven and leave the bread inside the oven for a few minutes.
 Remove and place the loaf on a cooling rack.
 Serve hot with butter to melt on top and a sprinkling of sugar and some native Filipino white cheese. Mabuhay!
Pin It