I normally do not eat pork because of the high cholesterol and fat factor. So, when I take recipes and craft these into meals, I always substitute the pork for either fish or chicken. This sausage bread recipe is no exception. Although I love fish sausages per se, I do not recommend using that ingredient in this next bread recipe – instead, we will use chicken, turkey, or (forget your cholesterol count for now) beef.
This heavy and filling sausage bread recipe is a meal in itself. It's got the basic ingredients of pizza, including the dough. It is also quite versatile as you can add your favorite vegetable such as carrot, cabbage, bell pepper and the like, as long as the end product will not require storage of more than a couple of hours. In other words, if served and consumed immediately, then you can expand the array of ingredients and add all that your heart desires. In the meantime, let's stick to the basics; you can experiment more on the filling combination later on.
As I mentioned earlier, this sausage bread recipe has the fixings for a pizza except the sauce, which, as a matter of fact, is also optional for future preparations. Also, in place of the tomato sauce, basil and paprika flavors, the outcome will have a more garlicky and smoked flavor and aroma.
Ingredients:
– half a kilo of ground beef or chicken or turkey sausages
– 3 cloves of garlic, minced
– 1 small onion, chopped finely
– 1 tablespoon of olive oil
– 300 grams of refrigerated pizza dough
– 1 and 1/2 cups of shredded cheeses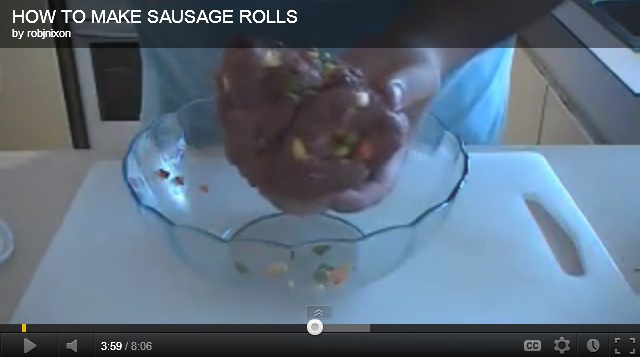 Method:
– Remove the sausages from the skin.
– Sauté the garlic and onions in olive oil. Add the removed sausage stuffing. Cook until almost done and drain in a strainer or press with paper towels.
– Unroll the frozen dough and shape into a rectangle on a lightly buttered baking sheet.
– Sprinkle evenly with sausage and the cheeses.
– Roll the dough into a jelly–roll style and pinch the ends so the filling is secured.
– With the seam of the roll facing down, cut crosses on top of the dough with a sharp knife.
– Heat the oven to 350°F. Bake the dough for about 30 minutes or until golden brown.
– Remove from the oven and let stand to cool for about 10 minutes or so, then slice diagonally for better presentation.
As in all bread products, this goes well with soft cream cheese slathered on it for a more delectable taste. Bon appetite!
Pin It