Rice flour is one of the most versatile flours. You can use it to make sweets, cakes, rice flour bread recipe, fried and baked snacks etc. I use it in many preparations and here is one of my favorite bread recipe of unleavened flatbread, or "chapatti" as it is commonly called.
Ingredients:
– 1/2 cup rice flour
– 4 tablespoons plain white steamed rice
– 2 teaspoons grated garlic
– 2 teaspoons chopped green chilies
– 2 teaspoons grated ginger
– 3 tablespoons yogurt
– 2 tablespoons oil
– Salt to taste
– Water to knead the dough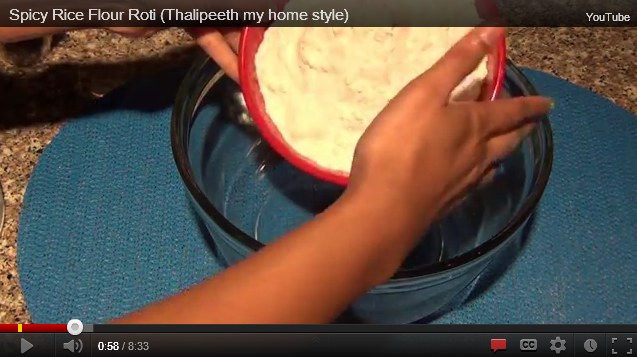 Instructions:
– Use a hand blender or a potato masher to crush the steamed rice.
– Add the rice flour and mix well.
– Add the grated garlic, ginger, chopped green chilies and yogurt.
– Add the salt.
– Mix well to get an even mix.
– Add a little water to the above ingredients and knead a soft dough (like you would knead a bread dough).
– Divide the dough into six equal portions.
– Using a rolling pin, roll out each portion to a 6-inch diameter circle.
– Heat the oil on a griddle.
– Cook the rolled out bread or chapatti on medium heat till brown on both sides.
– Press with a spoon on the sides to ensure that the bread cooks evenly.
– Repeat with the remaining 5 portions.
– Serve hot with curd, mint chutney, mango pickle or gravy.
Here is a simple Potato and Peas in Tomato Gravy recipe to serve with the bread.
Ingredients:
– 2 medium-sized potatoes
– 2 ripe tomatoes
– 1 cup fresh or frozen peas
– 1 teaspoon red chili powder
– 1 teaspoon cumin
– 2 teaspoons ginger paste
– 2 teaspoons garlic paste
– 2 teaspoons mixed spice powder
– 1/4 teaspoon turmeric powder
– 2 tablespoons oil
– 600 ml water
– A pinch of sugar
– Salt to taste
Instructions:
– Cut the potatoes and tomatoes in small pieces.
– Take some oil in a deep pan.
– Heat at medium heat.
– Add the cumin seeds.
– When the seeds start to splutter, add the ginger and garlic paste and fry for 2-3 minutes until the paste turns brown in color.
– Add the mixed spice powder, red chili powder and turmeric powder and fry for another 1 minute.
– Add the tomatoes and let them cook until the tomatoes are soft.
– Add the potatoes, peas and salt.
– Add the water and mix all the ingredients well.
– Cover the pan with a lid, leaving a little space to let the steam escape.
– Cook on medium heat until the potatoes are thoroughly cooked and you get a thick gravy.
– Garnish with chopped coriander leaves and serve hot.
Pin It