Vegan margarine is a butter substitute which is typically composed of oils extracted from vegetables. Whereas butter is derived from the milk of animals, margarine is derived from plant fats. It is also known as "partially hydrogenated vegetable oil". Most margarines nowadays have been fortified with vitamins such as Vitamin A, B1 and B3 and even Vitamin C. Vegan margarines boast of high fiber nutrients and very low cholesterol count. The human body needs only a little over 1 gram in cholesterol and this is already accounted for by liver production. Any excess cholesterol brought about by our food intake is deposited in the arteries and blood vessels that can be constricted due to cholesterol blockages. It is, therefore, very important that we minimize the cholesterol count in our diets. Having enumerated the importance of low-fat, low cholesterol intakes, here then is a delicious vegan banana bread recipe that can help to maintain our good health without depriving ourselves of the natural delicious and tasty treat.
Of course, bar none, the most nutritious diets are always found in the raw uncooked fruits and vegetables. But if you are itching for a baked goodie, then have some of this Vegan Banana Bread Recipe.
Ingredients:
– 1/3 cup of vegan margarine
– 1/2 cup sugar
– 2 cups flour
– 1 1/2 tsp baking powder
– 1/2 tsp baking soda
– 2 ripe bananas, mashed
– 1/2 cup soy milk
– 1 tsp vanilla
– 1/2 cup chopped walnuts (optional)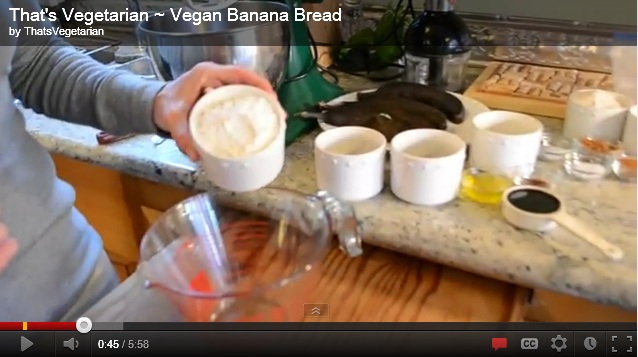 Preparation:
– Preheat the oven to 350 degrees F.
– Cream together the vegan margarine and sugar, then stir in the flour, baking powder and baking soda.
– Add the remaining ingredients and mix well.
– Pour into an oiled bread pan and bake for about an hour or just until the cake springs back when lightly touched (caution: be careful not to burn your arm in the oven!)
– Remove from the oven and cool for about 10 minutes.
– Remove the cake from the baking pan and let cool completely on a wire rack.
– Serve with a hot cup of your preferred green, black or white tea leaves – boiled just enough to extract the flavor; squeeze a slice of lemon to complete this perfectly healthy combination.
– Optional: You may frost the cake with your favorite vegan frosting recipe. Just make sure all the frosting ingredients are vegan-based, otherwise a corrupted non-vegan ingredient will defeat the purpose of the whole endeavor. Good luck and happy baking!
Pin It