Bread, butter and chocolate just sounds like the perfect combination for any day to me. Bread pudding recipe are one of my favorite desserts to serve on any day. They do not take much time to prepare and I just pop it in the oven while we eat dinner and it is ready by dessert time. Here is a white chocolate bread pudding recipe that I am sure you will love.
Ingredients:
– 1 bread loaf (a day old)
– 2 cups heavy cream
– 1 1/4 cups white chocolate chips
– 1 1/2 cups sugar
– 2 cups milk
– 2 eggs
– 3 egg yolks
– 1/2 tablespoon vanilla extract
– 1 cup roasted pecans
– 3 tablespoons butter
– 1/2 teaspoon cinnamon powder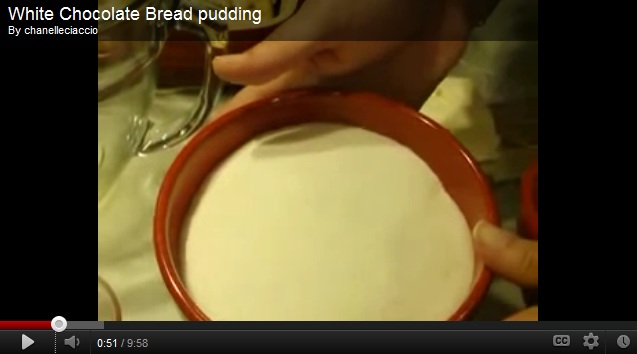 Instructions:
– Cut the butter in small cubes and set aside to get to room temperature.
– Beat the eggs till fluffy.
– In a saucepan, heat the cream until it simmers.
– Place the white chocolate chips in a bowl and pour the hot cream over it.
– Whisk until the chocolate melts and you get a smooth mix.
– Add the sugar and whisk to dissolve.
– Stir in the beaten eggs, milk and vanilla.
– Stir well.
– Beat the egg whites to soft peaks.
– Gently fold the egg whites in the chocolate-cream mix.
– Cut the bread in small cubes.
– Toss the bread in the egg-chocolate-cream mix.
– Let it stand for 20 minutes to allow the bread to soak up the custard mix. Toss in between so that all the pieces are evenly coated.
– Toss in the pecans.
– Pour this mixture in a glass baking dish.
– Sprinkle with cinnamon and dot with the butter cubes.
– Preheat the oven to 350F.
– Bake the white chocolate bread pudding for about 45 minutes until the top is golden brown in color.
– Remove from the oven and serve with sauce of your choice or whipped cream.
My favorite Caramel Coffee Sauce
Ingredients:
– 1/2 cup sugar
– 1/4 cup water
– 2 drops lemon juice
– 1/2 cup cream
– 2 cups black coffee
– 1/4 teaspoon ground coffee
– 2 teaspoons vanilla extract
– 1 tablespoon unsalted butter
– A pinch of salt
Instructions:
– Take the sugar, water and lemon juice in saucepan and heat over low heat until the sugar dissolves.
– Boil the mix until it turns caramel in color; do not stir.
– Remove from the heat, stir in the cream, coffee and coffee granules and mix well.
– Place the mix back on the heat and boil until the mixture thickens.
– Add the vanilla, butter and salt.
– Stir to get a smooth sauce.
– Serve with warm white chocolate bread pudding.
Pin It